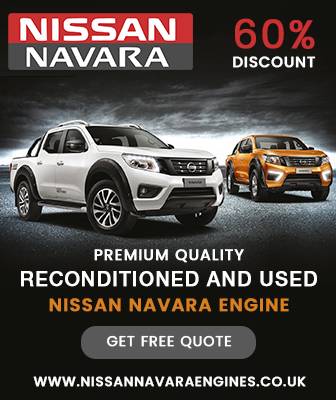 The Nissan Navara is a pick-up truck made by the Japanese Brand Nissan since the year 1997.
Generations of Nissan Navara
There are three generations in which Nissan Navara unveiled. Following are the generations:
Nissan Navara First generation (D22; 1997–2004)
Nissan Navara Second generation (D40; 2004–present)
Nissan Navara Third generation (D23; 2014–present)
Reconditioned and Used Nissan Navara Engine for Sale Online
Looking out for top quality recon and low mileage used Nissan Navara engines at pocket-friendly rates online? If you are the one struggling out for the same, you are at the right place. We have the best platform where you can find the top-notch engines at competitive prices online. The rates we offer are matchless in the entire UK and the stock we are possessing is largest in the entire UK.
We understand the worth of your valuable time and money. Grabbing a low mileage second hand or recon Nissan Navara engine is something very painful and you need to visit several garages in order to get the desired engine. Even if you find the engine, the next factor is value for money.
The place where you are buying an engine from must be trustworthy so that you would be able to buy with greater confidence. And the next thing is the cost at which you are purchasing the Nissan Navara replacement engine. If you have no idea about the price to be paid for a reconditioned or low mileage used Nissan Navara, then you need a reputable and professional place for that.
Still and all, let's pump the brakes for a while. Nissan Navara engines is the lifetime solution to all the problems. Let the cat come out of the bag!
Find The Latest Nissan Navara Engines for Sale in our stock
Nissan Navara D21 2.0 litre petrol engines
Nissan Navara D40 2.5 litre dCi 4WD diesel engines
Nissan Navara D40 2.5 litre dCi diesel engines
Nissan Navara D22 2.5 litre TDiC 4x4 diesel engines
Nissan Navara D21 2.5 litre D 4x4 diesel engines
Nissan Navara D21 2.7 litre D 4x4 diesel engines
Nissan Navara D40 3.0 litre dCi 4WD diesel engines
You Can Buy All Type of Nissan Navara engines at Competitive Prices
Nissan Navara is the platform you need to visit once. What makes us special is our skilled and experienced staff and mega stock of Nissan Navara engines. Once you get us the Reg. No of your Nissan Navara, your job is over.
Within a few moments, we allow you to search our database to grab the engine that you are looking for. You don't need to take care of the cost of replacement. The prices offered by us are extremely small as compared to the market.
Fast & Reliable Nissan Navara Engines Supply and fit service
The next wearisome task after purchasing the right engine for your Nissan Navara is its supply and fitting. We keep a close eye on that and understand the value of your precious time.
Just because of this reason, a competitive supply and fit service is offered by us against every single engine purchased from us. Same goes for recon and used Nissan Navara engines. The charges of supplying and fitting are knee high if you compare them with the market. So don't you worry about the supply and fit charges.
Premium Quality Nissan Navara Engines With Upto 24 Months Warranty.
Our first and foremost focus is our customer. Due to this case, free warranty as standard is offered by us in case of any replacement engine and Nissan Navara used and recon engines are no exception. The span of the warranty may differ in accordance with the type and condition of the engine you opt for.
That being said, the recon engine comes up with extended warranty period as compared to the low mileage second-hand engine due to the fact that reconditioned Nissan Navara engine is restructured by the engineers in our state of the art garage. However, the general warranty time period offered for replacement Nissan Navara engines is nine months.